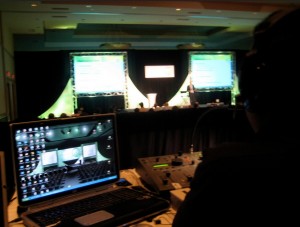 Planning and producing a live event can be an all-consuming task, with issues like venue selection, catering and guest travel and ticketing often dominating a majority of the process. Unfortunately, this means that one key element often gets forgotten amidst the logistics and coordination: the quality and impact of the event itself.
Video is one of the most powerful tools available that can take an event from ordinary to extraordinary, but for many event planners and managers, the full potential of video has never been realized. Here are six key ways in which video can play a powerful and potent role in your next corporate event:
1. Creating Excitement
Create a powerful, high-energy video that captures the excitement and potential of your event, and use it in marketing and attendee development to generate buzz and commitments throughout your pre-event period.
2. Establishing the Mood
Video presentations accompanied by music, often without narration, can be deployed in pre-function areas and in the main hall or space during pre-event activities, to establish a mood, focus and sense of energy for the program.
3. Communicating the Vision
Pre-recorded videos that feature first-person insights from your product's customers (for a business event) or your charity's clients (for a nonprofit one) can jolt attendees out of their comfort zone and get them engaged emotionally with the message.
4. Lighting Up Luminaries
Live, streaming video can allow you to arrange a live message from an industry luminary who may otherwise not be able to attend the in-person event (or whose fee for doing so might have been beyond the budget).
5. Engaging Non-Attendees
By the same token, live streaming can also be used to extend the reach of your event outside of those who attended in person, either by providing a free or paid point of access online, or through establishing dedicated offsite viewing locations.
6. Preserving and Presenting the Message
What better way to capture the energy than to record the event and create video summaries and short-format "as if you were there" vignettes that can re-energize those who did attend, and allow non-attendees and other future audiences to engage directly with your message. Finally, you can use some of this footage as the foundation for next year's pre-event marketing video, as we discussed in the first point – effectively 'closing the loop' on your video strategy.
As you can see, video can play an intimate and essential role across the entire arc of your event experience, from event marketing and pre-function to the main event and post-event extensions. Video truly is a cornerstone resource that can take your corporate event to the next level.
Learn more about corporate event production in Washington DC by contacting TalkingTree Creative today. Call us at 202-684-2225 or email Craig Weisbaum, President & CEO at craig@talkingtreecreative.com.
About TalkingTree Creative
Talking Tree Creative is an event production company that creates memorable experiences and lasting impressions on screen, on stage, and online. Headquartered in Washington D.C., TalkingTree Creative serves clients in the corporate, non-profit, association and government sectors as a leader in the event production field, infusing its work with elements of creativity, entertainment and engagement.
For more information, please visit talkingtreecreative.com. Follow TalkingTree Creative on Facebook, Twitter, Google+, and LinkedIn to stay up to date with our latest projects. Get a dose of visual inspiration by checking us out on YouTube and Pinterest as well.
Image Credit: meetingspodcast (Flickr @ Creative Commons)