YouTube hosted the first YouTube Music Awards at Pier 36 on Sunday in New York. While the title "music awards" might conjure up images of a red carpet, dry acceptance speeches and big industry names, YouTube eschewed the traditional music awards format for something a little more unique.
That's not to say that there was a lack of big names at the awards. The event, hosted by Jason Schwartzman and Reggie Watts, featured performances from Lady Gaga, Eminem, and Arcade Fire among others. However, it also featured smaller, if growing, names such as Lindsey Stirling, a self-made YouTube star who now has more than 1.5 million fans of her unique brand of violin playing on Facebook.
The usual schema of awards shows was abandoned for a more spontaneous approach, which focused heavily on audience participation. Audience voting determined the winners of the awards in lieu of backroom discussions. Sealed envelopes with the winners' names were still present, though the hosts had to search through 5 cakes to find Lindsey Stirling's award. The hosts were also given separate sets of instructions as to how the nights events would proceed, which made for a unique brand of comical relief. The hosts also were asked to hold Rashida Jones' babies while she performed on stage.
Will the video website's mold-breaking award show be back for another year? It remains to be seen, but with a live-stream viewership that reached over 200,000 viewers at one point, there's definitely a demand for more awards done YouTube style.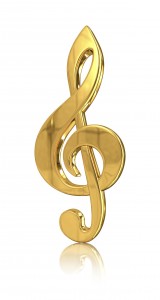 TalkingTree Creative initially began as a music production company over 25 years ago. Now we produce everything from original videos to live events and entertainment. We communicate client stories in captivating, creative ways. We match our storytelling skills with high production values so the finished piece is clean, professional, and exciting. We make sure that the feelings and experience that attendees take away from the media is a positive one.
Follow TalkingTree Creative on Facebook, Twitter, Google+, and LinkedIn to stay up to date with our latest projects. Get a dose of visual inspiration by checking us out on YouTube and Pinterest as well.
Sources
http://www.usatoday.com/story/life/music/2013/11/03/first-you-tube-music-awards-gaga-eminem-arcade-fire/3420757/
http://www.nytimes.com/2013/11/05/arts/music/youtube-music-awards-show-is-chaotic-and-watchable.html