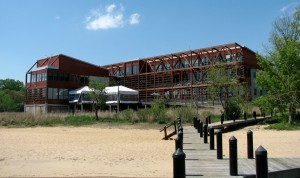 Washington, DC is one of the most dynamic and powerful destinations for a major corporate event. It's the capital city of the United States, home to numerous international agencies, and a leading global center of culture.
In fact, one of the greatest challenges for event planners working in a city filled with world-class venues is to find truly unique locations that step "out of the ordinary" and deliver a truly memorable experience.
Here are five innovative venues worth considering for your next corporate event in Washington DC:
The Carriage House
Nestled in the heart of the city's Dupont Circle neighborhood is the Carriage House, a meticulously restored, historic building owned and operated by the Mathematical Association of America (MAA). The Carriage House is ideal for an intimate affair or a series of meetings that would benefit from a combination of classic details and comfortable but elegant surroundings. In warmer months, the large barn doors on the first floor open up the space to make it one with the sights and sounds of the city. The Carriage House was recognized with a "Best of" award from Unique Venues magazine in 2014.
For more information:
http://www.maa.org/meetings/carriage-house-meeting-space
The Philip Merrill Environmental Center
No, it's not in Washington, but the Philip Merrill Event Center offers the next-best thing: a spot right on the Chesapeake Bay. This purpose-built facility owned and operated by the Chesapeake Bay Foundation was the world's first LEED Platinum building. It is a truly sustainable space with dynamic architecture, high ceilings and an enviable location right on the bay just outside the City of Annapolis, MD. In addition, the center's unique design and engineering emphasizes a world-class commitment to environmental sustainability.
For more information:
http://www.cbf.org/about-cbf/offices-operations/philip-merrill-environmental-center/hold-your-event-at-cbf
Art Museum of the Americas
Holding an event within a museum isn't necessarily unique by Washington, DC standards. But holding an event at the Art Museum of the Americas (AMA) – a truly hidden gem just steps from the White House – definitely is. Located overlooking a terrace and reflecting pool, and with an astoundingly beautiful Mayan-inspired loggia as one of its main event spaces, the AMA is a stunning option for your next event.
For more information:
http://museum.oas.org/rental.html
Koshland Science Museum
Yes, it's another museum, but without a doubt the Koshland Science Museum, located between the city's Chinatown and Judiciary Square neighborhoods, is a setting of a different nature entirely. Established by the National Academy of Sciences to promote direct engagement with some of the world's most pressing scientific issues, the beautifully designed museum provides you with a unique and dynamic space, but one that also engages attendees in issues such as environmental sustainability, immunology, nutrition, natural resource planning and energy consumption. This is truly the thinking person's event venue.
For more information:
https://www.koshland-science-museum.org/events/webform/plan-event
The Samuel L. Clemens Event Center at the Willard
Every Washingtonian knows that the Willard Hotel is one of the city's premier hotels and event venues. What few know is that there is a separate, rooftop event center on top of the Willard office building, right next door. Impeccably restored and beautifully appointed, the Clemens Event Center (named, of course, after the master writer Mark Twain himself), brings together three things that are hard to find in one space: A state-of-the-art business and executive event facility; a beautiful, celebratory event space with historic character; and an outdoor terrace with first-class views. At the Clements Event Center, you can have all three.
For more information:
http://carrworkplaces.com/eventspaces/willard/
Clearly, the Washington DC region is not lacking for unique and distinctive event locations. This article just touches the surface of what's available, and partnering with a Washington DC event production company can be the key to finding and selecting the perfect venue for your next program.
Learn more about corporate event production in Washington DC by contacting TalkingTree Creative today. Call us at 202-684-2225 or email Craig Weisbaum, President & CEO at craig@talkingtreecreative.com.
About TalkingTree Creative
TalkingTree Creative is an event production company that creates memorable experiences and lasting impressions on screen, on stage, and online. Headquartered in Washington D.C., TalkingTree Creative serves clients in the corporate, non-profit, association and government sectors as a leader in the event production field, infusing its work with elements of creativity, entertainment and engagement.
For more information, please visit talkingtreecreative.com. Follow TalkingTree Creative on Facebook, Google+, LinkedIn, and Twitter, to stay up to date with our latest projects. Get a dose of visual inspiration by checking us out on YouTube and Pinterest as well.
Image Credit: kolleggerium (Flickr @ Creative Commons)