The surest way to host a successful event that brings audiences back year after year–and attracts new attendees–is to make it memorable. Over the years, the team at TalkingTree Creative has had the pleasure of working with a wide array of clients, including world-class ballet companies and growing accounting firms. 
Our diverse client list has enabled us to work on many exciting projects. In this blog, we recount some of the exciting events we've brought to audiences across the country. Plus, we identify what made them truly special, so you can learn from these successful events.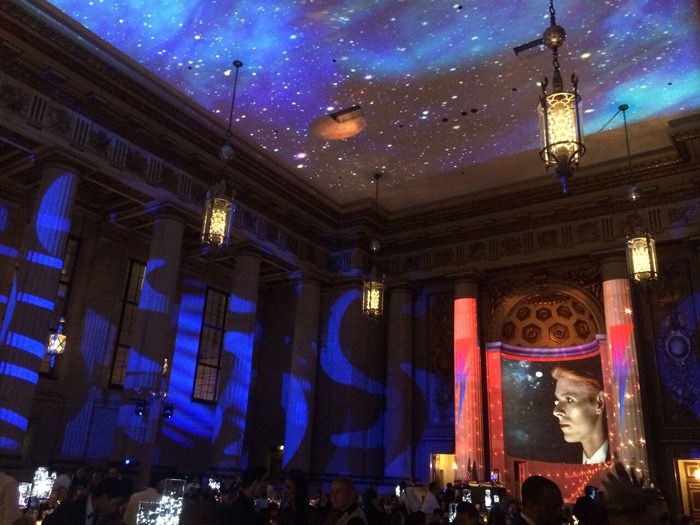 Venue and location are some of the most important aspects of an event, but availability and budget constraints can limit the options available to you. Fortunately, with the right technology, you can still create a jaw dropping event space even if your dream venue is booked or out of your price range.
We produced a whimsical David Bowie themed gala for The Washington Ballet. The chosen venue for the event was already a beautiful space with its own unique character. However, on its own, the venue wasn't yet ready for a gala appreciating the legendary–and unabashedly odd–David Bowie. Thus, transforming the Andrew W. Mellon Auditorium and its intricate architecture presented an exciting challenge for us.  
To transport attendees into David Bowie's world, we transformed the space into something that was otherworldly just like the legend himself. We incorporated the unique design of the venue into our set design, projecting a custom series of videos framed with Bowie's iconic lightning bolt. Through the use of projection mapping, we transformed the ceiling into a dynamic night sky. The result was quite literally out of this world.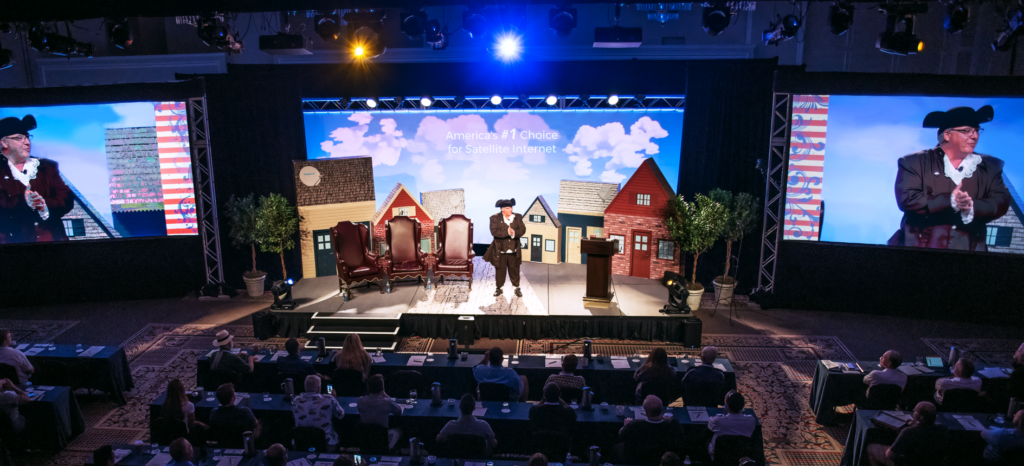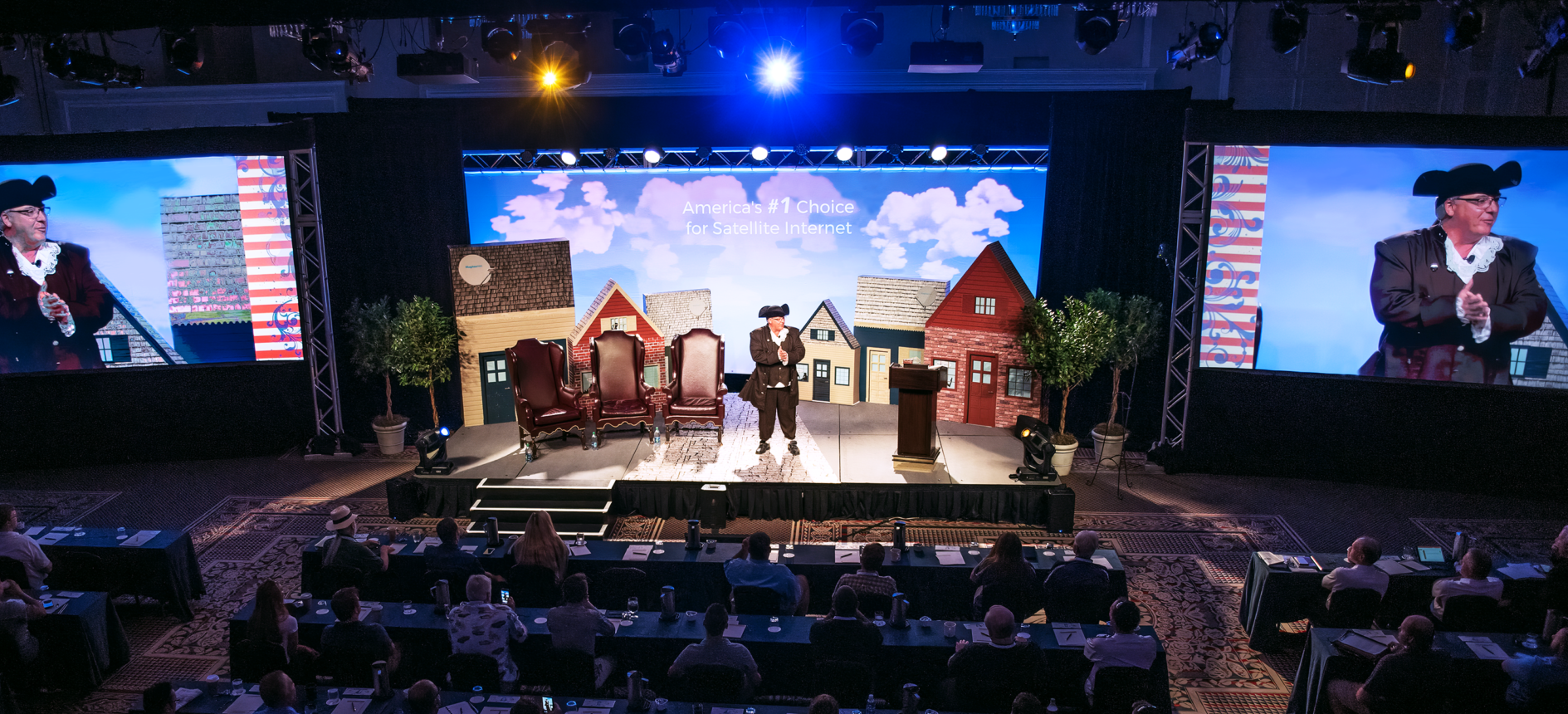 One of the biggest challenges in producing professional events is striking that delicate balance between engaging and informative. Choosing a memorable theme for your event helps to keep the programming interesting while delivering professional content. Event themes can also simplify the planning process by offering a useful reference point you can use to design content, pick the venue and decorate your space. 
Producing an annual professional event presents an added challenge. Attendee shifts happen, but many of the same people will be in attendance every year. To produce a successful event, fresh and fun content is essential. And themes are an excellent way to deliver professional content in an engaging manner. For the 2017 HughesNet Summit, our client matched their theme with the location of the event: Colonial Williamsburg, Virginia.  
Like the Bowie Ball, we transformed the event space into an immersive experience. We built a physical stage set made to look like a colonial town square, complete with buildings placed on stage to create a disappearing perspective—this made it so that the buildings at the center of the stage looked like they were farther away than those at the edge of the stage. 
Additionally, a Thomas Jefferson impersonator elevated the theme of the event to the next level and provided entertainment throughout the summit. In entertaining the attendees, the impersonator told tales about founding America. And he even aligned his messaging with the professional goal for the event: to motivate Hughes team members. 
Client Testimonial: "TalkingTree Creative has proven to be a reliable long-term partner, as their efforts have drastically improved audience satisfaction. The team successfully plans well in advance to devise thorough project schedules, and they are flexible to budgets without sacrificing quality."

          – Michael Tippets, VP of Enterprise Marketing & Org. Dev.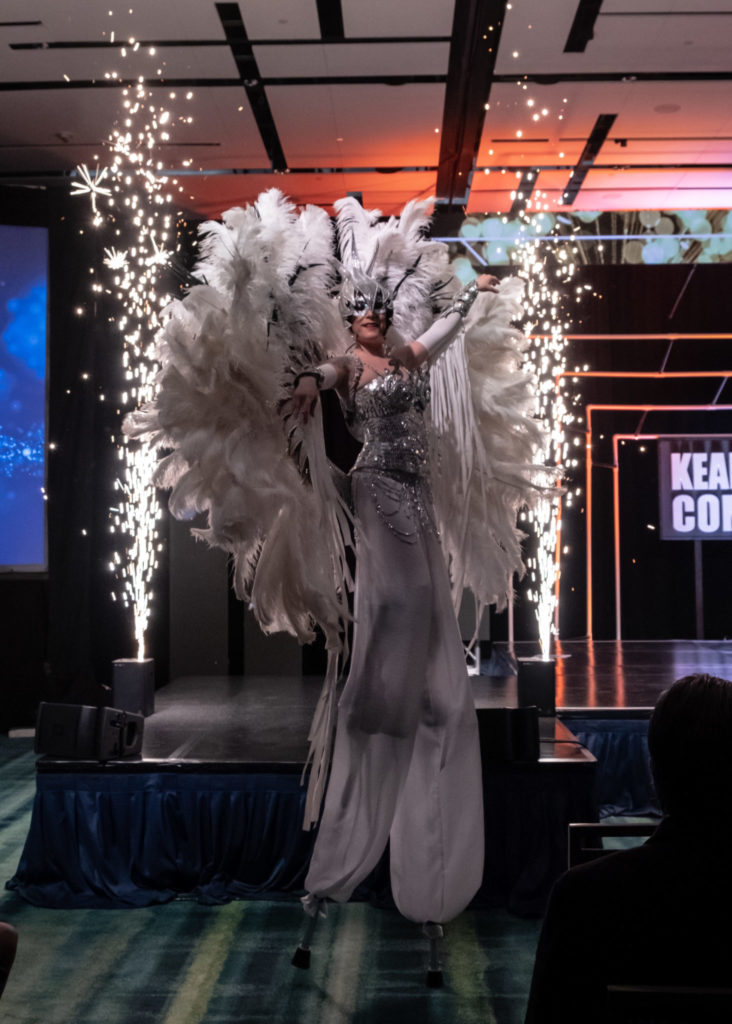 In a recent blog post about the impact of emerging professional values on the events industry, we discussed the importance of incorporating downtime into corporate events. Professional events are often all-day affairs full of learning, networking and other activities. Breaking up the content and formal programming with entertainment and rest breaks is essential to maintaining attendee engagement. In addition, entertainment has the added benefit of creating lasting memories. 
Our client Kearney & Company understands the value of fun and laughter at professional events. Through pop culture references and jokes that only Kearney & Company insiders understand, they make sure attendees laugh throughout the event. 
In fact, they love to go all out on truly memorable experiences for their events. And they have a particular affinity for top-notch production design. When working with them, we can always expect them to bring unique ideas to the table. From on-stage fireworks to the kind of dancers you're most likely to see in Las Vegas, they're always sure to have fun. Amidst all the bells and whistles of masked dancers and fiery displays, their professionalism remains ever-present. After all, hosting an exciting event keeps their team members motivated and always looking forward to the annual affair. 
Work with TalkingTree Creative
Whether you want your event space to transport attendees to another world or you'd like to delight your team with live entertainment, our team of professionals can bring your vision to life. When the time comes to plan your next event, jot down your exciting ideas. Even if your list of ideas consists of long-dead presidents, it's possible that we can make it happen. 
Ready to plan an event that will leave guests talking? Contact us today!