Let's say you've made a video for your business of a demonstration for a new product. You upload it to your website and wait for the views to roll in. Even if the video has interesting content and good production values, it's unlikely that you'll get the views you're looking for. In order to successfully drive traffic to your website using video, you have to be proactive with your video production.
The best way to be proactive is to have a dedicated production arm that can focus on three things. One: producing quality, engaging content. Two: optimizing this content for search engines, also known as SEO optimization. And three: constantly pushing out new media. Let's go over each of these concepts a little more in depth.
Content Production
First things first, nobody wants to watch a bad video. Bad is obviously a very broad term, and there are lots of ways a video can be "bad", from a lack of engaging content to poor production values. The sole focus of a dedicated production arm is the creation of good content that people will want to watch, and more importantly, that will encourage them to view more of your content.
SEO
If you're not optimizing content for search engines, it's a lot like sending it into a black hole. The internet is a big place, and content absolutely must be optimized in order for people to find it. A production arm knows how to ensure that your videos don't get lost in the shuffle. There are also lots of optimization strategies on YouTube such as call-to-action overlays that will help drive traffic to your website.
Watch, Click, Repeat
So you've got a good video, and it's optimized for search engines. Viewers easily find your video, and they enjoy watching it. Now, you have to give them more. Steady creation of new content keeps viewers interested in your brand, and keeps them coming back for more. Keeping video production on a frequent and regular schedule is arguably the most important function of a dedicated video production arm, and the one that will drive the most traffic to your website.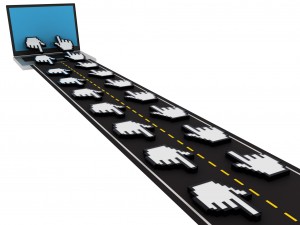 TalkingTree Creative initially began as a music production company over 25 years ago. Now we produce everything from original videos to live events and entertainment. We communicate client stories in captivating, creative ways. We match our storytelling skills with high production values so the finished piece is clean, professional, and exciting. We make sure that the feelings and experience that attendees take away from the media is a positive one.
Follow TalkingTree Creative on Facebook, Twitter, Google+, and LinkedIn to stay up to date with our latest projects. Get a dose of visual inspiration by checking us out on YouTube and Pinterest as well.
Source
http://www.socialmediaexaminer.com/3-ways-to-use-youtube-to-drive-traffic-to-your-website/