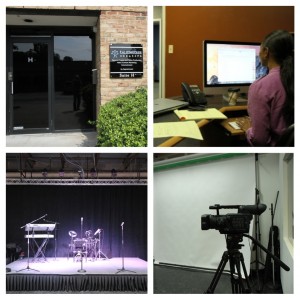 In a world where effective communication is paramount, it's essential to have the right tools for the job. Whether the task at hand is production of a product launch video, recording and mastering of music and motion graphics, or development of media for a major corporate event, you need to have the right environment in order to produce the best results.
With that in mind, TalkingTree Creative has expanded its footprint and established a new studio and production center in the the heart of the Baltimore-Washington corridor. The new studio is located just off of I-95 and provides the TalkingTree team with the critical tools and resources necessary to offer an expanded range of capabilities to its clients.
Beginning with a web-enabled conference room, TalkingTree can now have creative meetings with clients (in person or online ) while sharing the media we are working on for brainstorming or review sessions, while everyone is looking at the same media together.
The space also provides offices for support staff and a kitchenette to provide the never-ending coffee required to fuel the creative process, as well as cold drinks for staff and visitors.
There are two video editing suites and one of them can double as an audio production and mixing suite as well. All of the computers and workstations are networked to create a 'render farm' that reduces rendering times on animations and visual effects. The new studio also boasts a 20 TB media server to store and serve up all the footage from current and ongoing projects.
The best part of the new studio, however, is the production room. This is a 26 x 35 foot room with 16 foot ceilings in which TalkingTree has installed a complete lighting grid, sound system, display screens and stage (all configurable for the various needs of the firm's corporate event and video production clients).
TalkingTree has also installed an insert area featuring green screen, virtual sets, and white seamless photographic backdrops.
Clients can be in and out quickly using the provided teleprompter, and pre-set lighting – plus the 'virtual set' capability that allows companies to place their presenter in any environment they can dream up.
So, what can we do with all of this?
From the main stage, TalkingTree can host client presentations (in front of a live audience of up to 50 people) and stream it live to the world, while recording it for on demand viewing later. TalkingTree can also stage and shoot theatrical screen plays and musical performances.
And the thanks to the new studio, TalkingTree can record corporate video with a teleprompter in a matter of minutes, and often with no setup. In addition, the team can stage live events on a small scale to demonstrate stage looks and room décor using digital projection. The firm can offer interactive training sessions recorded live and ready when the client leaves.
And of course, TalkingTree Creative can still come to the client site and shoot on-location video, then bring it back to the studio for first-class post production in order to deliver to the web.
Want to visit the new TalkingTree Creative studio for corporate event production and video production in the Washington, D.C. region? Call first by dialing the office at 202-684-2225, then visit the studio in person at:
TalkingTree Creative – Production Studio
1430 Joh Ave, Suite H, Halethorpe, MD, 21228
(95 North toward Baltimore, one exit past 695 (the Baltimore Beltway) – 40 minutes from Downtown DC)
About TalkingTree Creative
TalkingTree Creative is an event production company that creates memorable experiences and lasting impressions on screen, on stage, and online. Headquartered in Washington D.C., TalkingTree Creative serves clients in the corporate, non-profit, association and government sectors as a leader in the event production field, infusing its work with elements of creativity, entertainment and engagement.
For more information, please visit talkingtreecreative.com. Follow TalkingTree Creative on Facebook, Google+, LinkedIn, and Twitter, to stay up to date with our latest projects. Get a dose of visual inspiration by checking us out on YouTube and Pinterest as well.