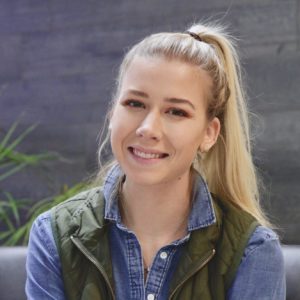 Sarah Lorish
Content Marketing & Associate Producer
Sarah is a storyteller - she's pretty sure that's why she's on earth. She lives to seek out, craft, and share the stories that make people move - the kinds of stories that inspire a desire for excellence. Whether it's behind the camera, in the editing room, or with a pen in her hand, Sarah feels most at home when she's creating content that jumps off the screen and lives in the hearts of her audiences.
While studying film at New York University and Professional Writing at Penn State, Sarah developed her creative arsenal by producing independent films, publishing academic and creative articles, and working to publish a memoir.
In forging her professional path, Sarah has taken on several creative endeavors. From podcasting, sports journalism and content creation, to video production, public speaking, screenwriting and blog writing, Sarah brings a bouquet of creative tools to TalkingTree as a content creator.
Sarah pours her soul into every piece she produces. In the office, you'll find her scribbling down the perfect punchline for the TalkingTree blog, keeping followers entertained and up to date on social media, or conceptualizing the next viral video. Her eye for detail helps to ensure the highest quality at every stage in the creative process. This passion for excellence is fueled by her 15-year career as a competitive gymnast, which instilled in her a passion for hard work and purpose at a young age. Outside of work, Sarah is either practicing brush lettering, bullet journaling, coaching competitive gymnastics, watching gymnastics, listening to podcasts, teaching her kitten tricks, trying to convince people that her kitten can catch an aluminum foil ball, watching The Office, and telling other people to watch The Office.