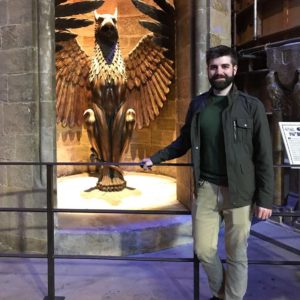 Devyn Hoy
DP & Multimedia Artist
From a young age up in Pennsylvania, Devyn was always behind a camera capturing stories—and then eventually behind a computer screen editing them together. He spent his childhood crafting shorts that were more often excuses to experiment with visual effect ideas. This curiosity and love for video production continued through college, where he obtained a degree in Film & Communications from Penn State University.
After freelancing for various PA businesses, Devyn moved to the DC/Baltimore region to pursue greater opportunities in his field-of-choice and discovered TalkingTree Creative. Here, he has continued to create media for an increasingly diverse group of recipients. A rare talent, Devyn can visualize the final product from shoot to finish, and uses that skill to keep projects on track from the beginning – planning and shooting with the edit in mind so that post-production goes as smoothly as possible. Every visual is a puzzle, and Devyn is most at home when solving them.
When he isn't crushing it at the office or in the field, Devyn can be found creating storytelling content or partaking in all sorts of immensely nerdy activities. If he isn't writing, filming, making music, or ogling over cinematography, he's probably enjoying a concert, cosplaying at a convention, or doing something embarrassing like playing Dungeons & Dragons.