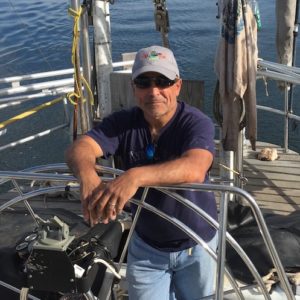 David Telles
Creative Director
After attending the University of Maryland and Westminster conservatory, David moved west and spent many years in Los Angeles as a successful studio musician, writing songs, plays, and other performance art. He gained a keen interest in the behind-the-scenes business of music and art, which informed his decision to eventually leave Los Angeles.
That interest in business brought him to Boston and a corporate sales position with a nation-wide provider of institutional pharmacy services. B to B sales successes, and the experience of working with a top-notch sales team, eventually brought David to marketing. It also triggered a desire to integrate creativity with corporate savvy, the very paradigm he found at TalkingTree.
Managing scripting, visual effects, design, talent and much of the graphics, David works out of offices in Baltimore, Maryland and Dartmouth, Massachusetts.
David's spare time is spent indulging his hobbies of designing and building sailboats, cooking, and playing music. David lives in Massachusetts with his wife Heidi.