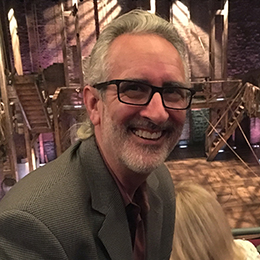 Awards and Honors
Craig's awards and honors include:
Multiple ADDY Awards for Video Productions
ISES Awards for Best Technical Production and Best Corporate Event
Communicator Awards for corporate TV programs
Craig Weisbaum
Chief Creative Officer
The founder and President of TalkingTree Creative, Craig was born in Brooklyn, NY and raised in the Washington DC area. Throughout his young adulthood, Craig studied classical piano, jazz and composing. He competed nationally in classical piano competitions, studied with big-band luminaries, and landed at Berklee College of Music in Boston. Since the age of 13, Craig also worked at photography and (through his part time job at a camera store) attended Kodak's master seminars on photography and film. After college Craig's national career in music began as the keyboardist for the Peaches & Herb World Tour from 1980-1982. He has shared the stage with The Temptations, Bob Hope, The Beach Boys and many others. Performing top-10 hits to international crowds of thousands gave Craig experience with large venue productions, and taught him what it takes to engage an audience. This background in music, visuals and audience engagement would inform his desire to produce live events.
During the 1990s Craig moved into the field of video production and event production when he founded Image and Sound – a post-production studio. At Image and Sound, Craig produced pitch videos for entertainment companies, promotional corporate pieces, session openers and documentaries, as well as radio jingles and TV ads. Soon, clients began asking Craig to take care of production for presenting the content he created – and this is where he saw the impact of multimedia production on an audience.
In 1999 he sold his partnership in Image and Sound and took a position as creative director at an AV production company where he produced events and content while learning about the latest technologies and staging techniques. Since then, Craig has been producing live events using all the experience he has accumulated throughout his career. In 2007, he founded TalkingTree Creative to create the productions he always envisioned.
Craig is passionate about engaging audiences and making the on stage talent look good. It's what he has trained for his whole life. He is an insatiable learner, experimenter and life hacker who thoroughly enjoys working with people of all types. Craig has 3 grown children and currently lives in Baltimore MD with his wife Jane.