The Texas Society of Architects hosts an annual Conference and showcase that features in-person building tours, educational sessions, a tradeshow, keynote presentations, and various networking activities. 
When 2020 made it impossible for TxA to proceed with their plans for an in-person conference, they turned to their trusted partner, Shepard Exposition Services to transition to a virtual event. Shepard engaged TalkingTree Creative to execute the design and production of the event. 
TxA's goal was an event that preserved as much of their in-person experience as possible. We were committed to showing them that the pivot to virtual isn't just a backup – it's an opportunity. 
In partnership with Shepard, we produced a virtual experience that exceeded the limitations of in-person event production. The 2020 TxA Virtual Event and Showcase was a demonstration of the evolving modern event landscape. Events like this prove it's possible to produce a virtual experience that is energizing, interactive, and engaging while valuing health and safety in these volatile times. 
Sourcing the Platform
There are a plethora of virtual event website platforms available, so when it comes to finding the right match for a project, we perform extensive research, planning, and testing. For TxA we landed on the EngageZ platform for its bandwidth to handle multiple simultaneous live streams and the robust all-in-one solution for tradeshows and networking rooms. 
Site Design
This event required an entire website design and performance plan. We worked with the client to build a sitemap, page functionality wireframes, and design mockups. Each virtual room and webpage was curated to the client's functional and aesthetic needs.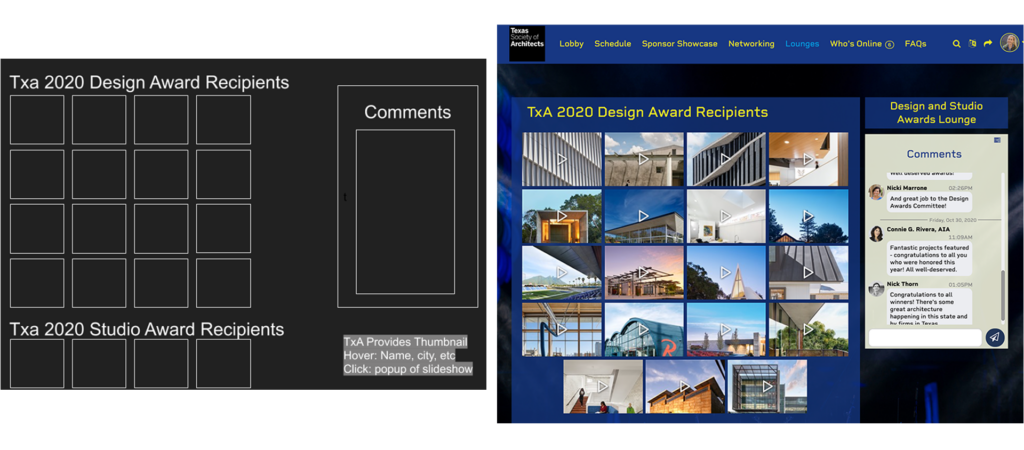 Production
The conference featured more than 50 remote productions over three days. This included both live and simulive sessions and moderated Q&A sessions. All simulive sessions were pre-recorded in the months leading up to the conference. The sessions were archived for on-demand viewing after the live timeslots. 
Networking
The site featured a dedicated general networking room where attendees could post on the social wall, see who is online, and find networking events on the Networking Calendar.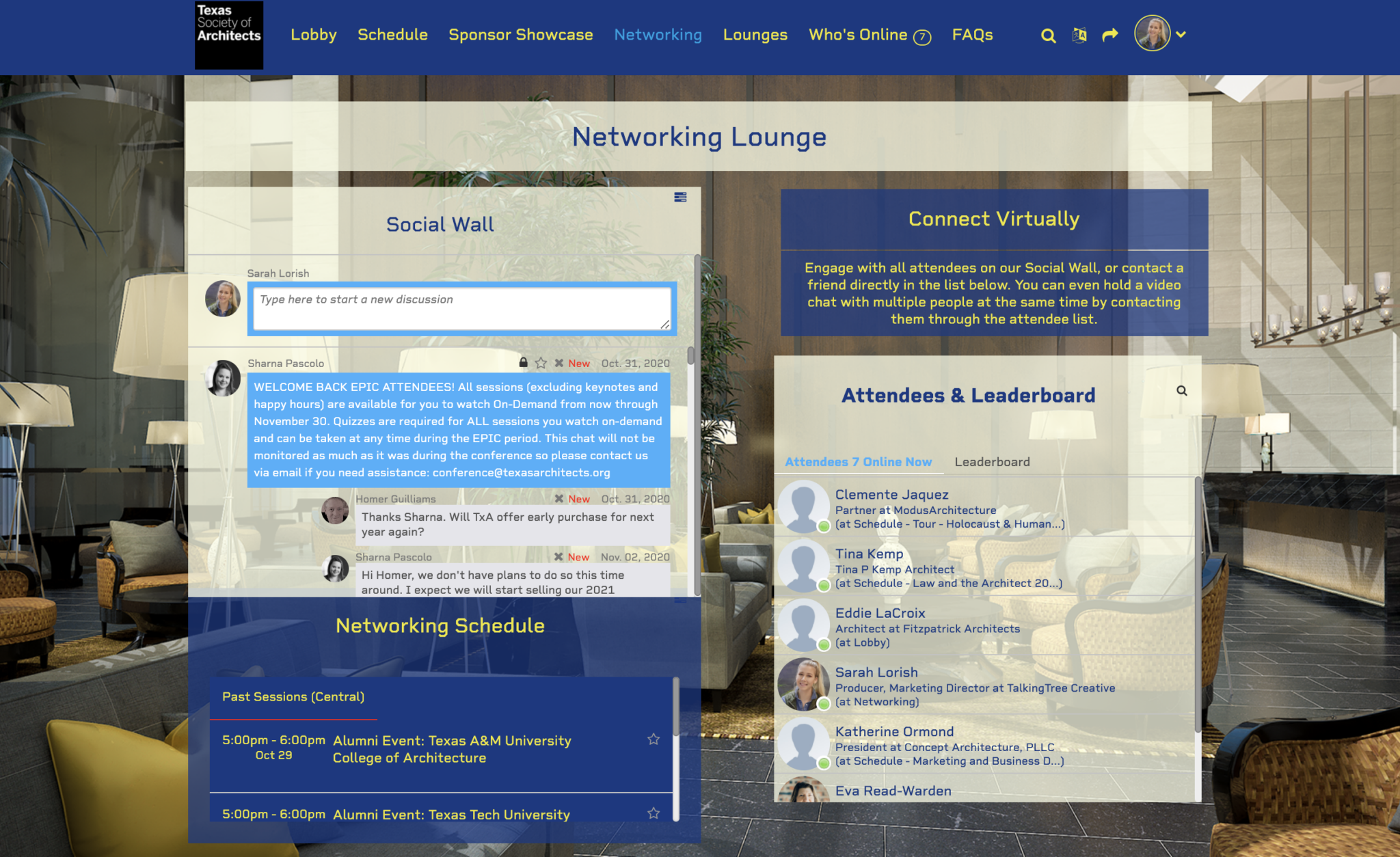 Immersive 3D Experience
Sometimes, an entirely 3D virtual event can seem overwhelming. For this event, we kept rooms and pages simple and easy to navigate, but we elevated the lobby to create a more immersive, interactive experience. We built a 3D style atmosphere with photorealistic attendees and motion-graphic signage.
Normally, a virtual conference like this will have a welcome video or a message from an executive playing in a lobby. We took this idea a step further by actually placing their President into the lobby so she appeared to be a part of the virtual environment. She welcomed attendees with a message and wayfinding instructions that were slightly different each day.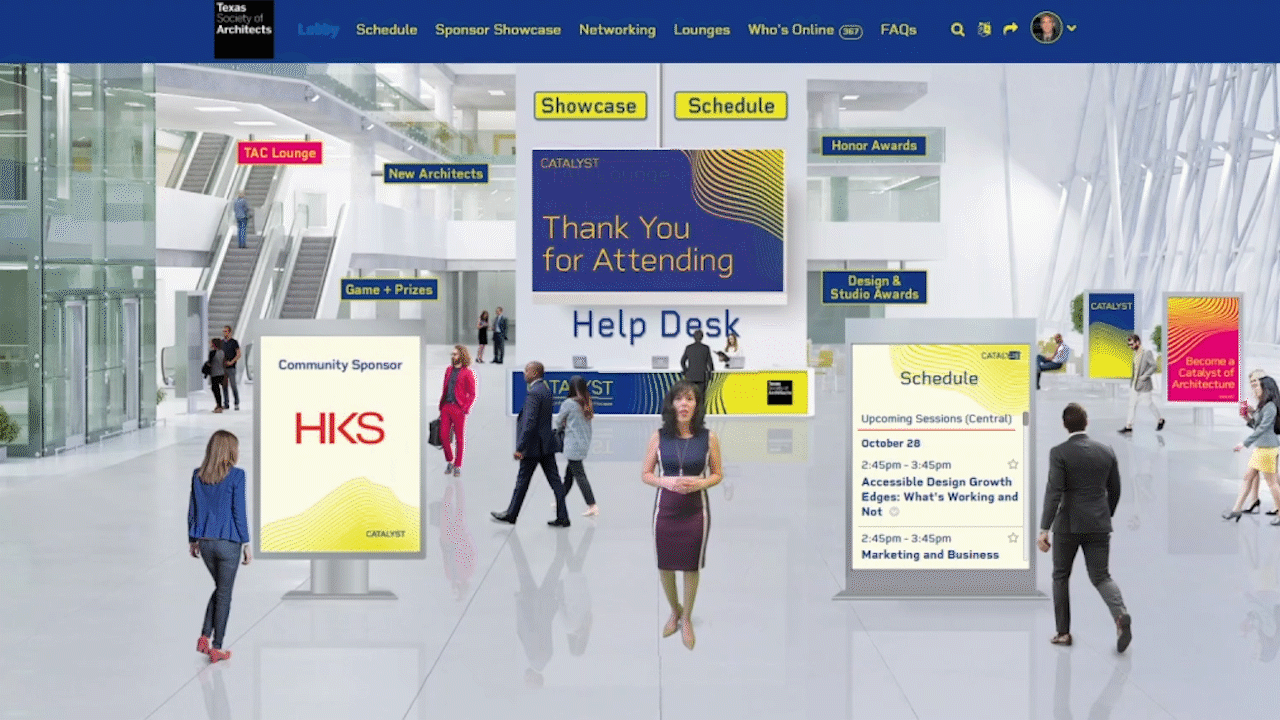 This extra step to send the President a green screen made a sizeable difference to attendees. Each day, they were greeted by the spokesperson of TxA in a personable, exciting way. This fun addition is evidence that virtual events don't have to be a series of stagnant webinars, but a personal, engaging experience.
Virtual event training
We provided live remote training along with PDF and video resources tailored to each client when it comes to training and instructional assistance for remote participation.
Remote Presenter Training
In a live studio production, speakers don't have to do much more than present. A remote production means we have to prepare speakers to properly set up a webcam, log in to our web-based switching platform, and perform. Because we can't be right behind the glass directing them, we hold trainings and one-on-one rehearsals to prepare every participant. 
For TxA,  speakers were trained and taught to log into our live switching platform ahead of time, so on the day of the event, they felt comfortable delivering a dynamic presentation.
Exhibitor Training
Virtual trade shows were a new concept for almost every exhibitor at this conference. We hosted live Zoom training sessions and shared supplemental digital resources to teach exhibitors how to build a booth, navigate the back end of their booth, reach out to booth visitors, access and download analytics, and more. 
Virtual Showcase
TalkingTree Creative designed, produced and hosted a virtual tradeshow that ran for all three days of the conference. This event had a large number of sponsors, and about 30 of those sponsorship packages included a custom virtual booth featured in the Sponsor Showcase. Our production team worked closely with all exhibitors to help them create a beautiful booth that worked for their individual needs. 
Results
This was a brand new idea for everyone on the client's end so it involved nearly daily team briefings and organizational collaboration. The feedback for this event was truly overwhelming. We received a record number of notes from individual speakers and exhibitors telling us that the virtual event process was easier than expected thanks to our knowledgeable and attentive team.